This shop has been compensated by Collective Bias, Inc. and its advertiser.
All opinions are mine alone. #CreateWithHP #CollectiveBias
It's back to school time!  Oh where has the time gone?  My son is in Junior High this year and each student has been issued a laptop for their school work.  This is great and so helpful for him to have his own computer to work on.  It frees up my computer so I can keep working. The only problem with doing all his work on a computer is getting it printed to turn in.
My printer is great but it was such a hassle to print his work.  He had to email it to me, open it on my computer, reformat the document, and then print it.  Way too much work! So this year, he gets his very own printer!  I was so excited that I created printable labels for all his school supplies, and I made them editable so you can customize them for yourself or your child to use too!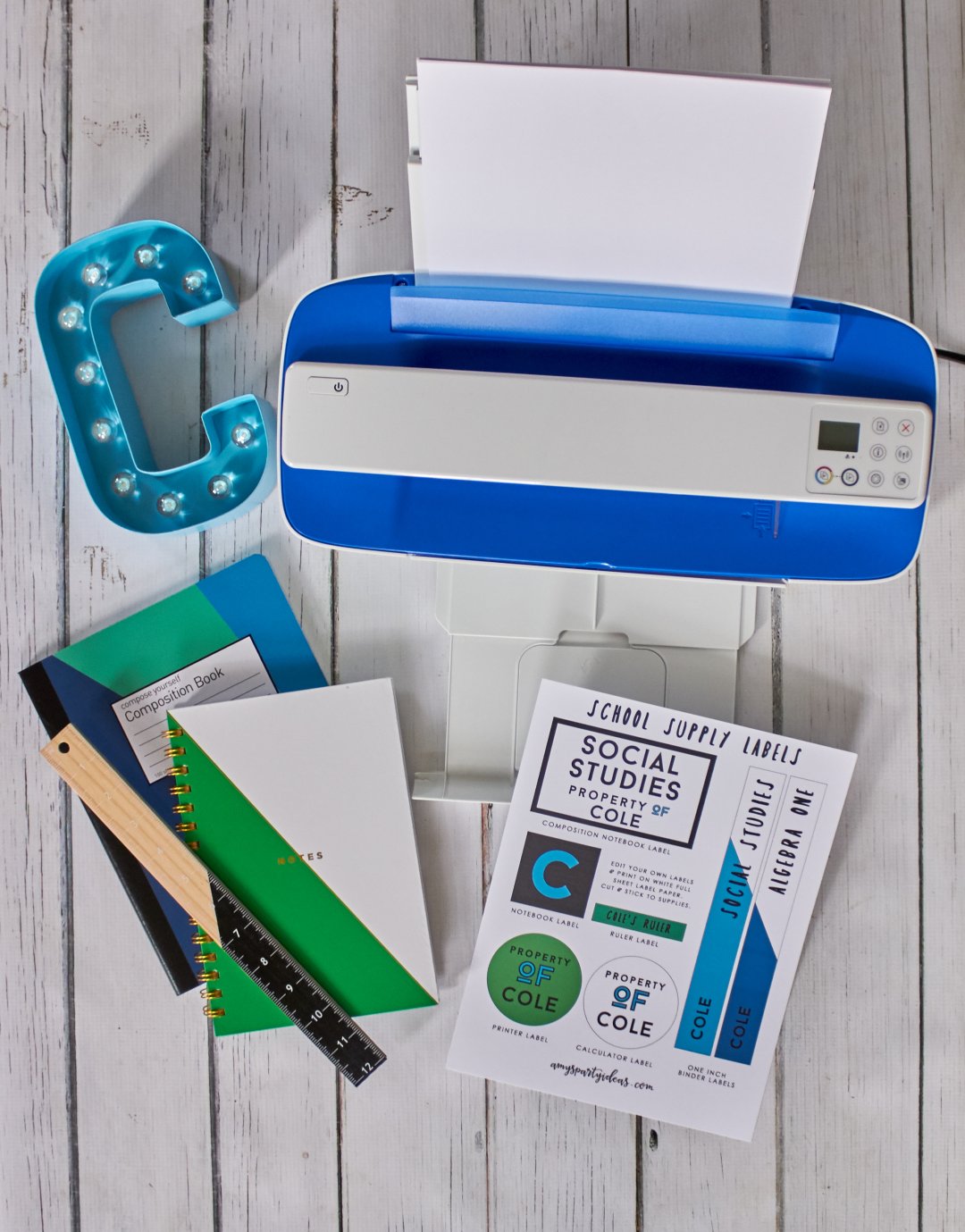 Want to get one of these great printers for yourself?  Hover over the image and shop now!
I got him the HP Deskjet 3722 All-in-One Printer/Copier/Scanner in Dragonfly Blue.  This printer is the world's smallest all-in-one printer.  It is so compact that it fits on his desk and still leaves plenty of room for him to work.  It is a printer, copier, and scanner all in one which is so helpful.  My printer only prints and there are many times we need a copier or a scanner.  This has been so useful already as we have filled out paperwork and forms for school.
Our favorite feature pf this amazing little printer is that you can wirelessly print, scan, and copy what you need quickly and easily.   I connected our smartphones directly to the printer, and we can now easily print without a network. We can also scan any object on the go with the HP All-in-One Printer Remote mobile app.  Seriously, this saves so much time!  In fact, just this week, one of his teachers posted a study map on the school app.  I opened it up in my smartphone and printed it using the wireless feature and it printed perfectly.  When he got home, he had what he needed to study for his quiz waiting for him on his printer.
On top of that, it is available in 3 fun color choices only available at Walmart: Sporty Purple, Poppy Pink, Dragonfly Blue.  We chose the blue one of course.  It blends into his room decor perfectly. If you want to see how small and great this HP printer is, you can check out the in-store demos that are currently taking place in Walmart stores.
Edit Your Own Printable School Supply Labels:
My favorite part of the back to school season has always been school supply shopping!  I love getting organized and picking out new supplies for a fresh start.  I have found that it is absolutely necessary to label all of your supplies when you are still in school so you don't lose what's yours, or if you misplace something, it can be returned to you. I made printable labels this year for all those back to school supplies.  You can edit them with your name and courses.  (And girls, don't worry!  I made a version for you too!)
What you will need:
Editable Printable Labels (Download below…save and open in Adobe Reader to edit)
Full sheet label paper
Scissors
School Supplies
What to do:
Download and edit your labels.  Print them out on full sheet label paper using your new printer!
Cut out each label.
Stick them on your new school supplies. Have a great year!
Get your free back to school labels printable!  (If you would like to share these, please only link to this post.  Do not share the printables direct on your site. Thank you!)
Be sure to check the back to school aisles when you look for the printer.  In my store, all three colors were stocked in the school section near the front of the store.  Only one color was back in the electronics section.
What's your favorite part of back to school?  Do you love organizing new supplies like I do? Share your tips below!  I'd love to hear them.
Save
Save
Save
Save
Save
Save
Save
Save
Save
Save
Save
Save
Save